End of Life…when is time to say goodbye?
The hardest part of loving a pet, is that one day, we have to say goodbye to them. It is not always easy knowing when to elect euthanasia but evaluating your pet's quality of life can be very helpful. There are many quality-of-life scales and resources available online. In this video Dr. Mary Gardner, a Veterinarian focused on geriatric medicine and end of life care, can give you guidance when making this difficult decision.
Please do not hesitate to call us to schedule an appointment with our veterinarian to discuss hospice care and your pet's quality of life if you are unsure if saying goodbye is appropriate or not. If you are ready to schedule an end-of-life appointment, we will help walk through the process, discuss what your options are and give you suggestions to make the experience as peaceful as possible for all involved.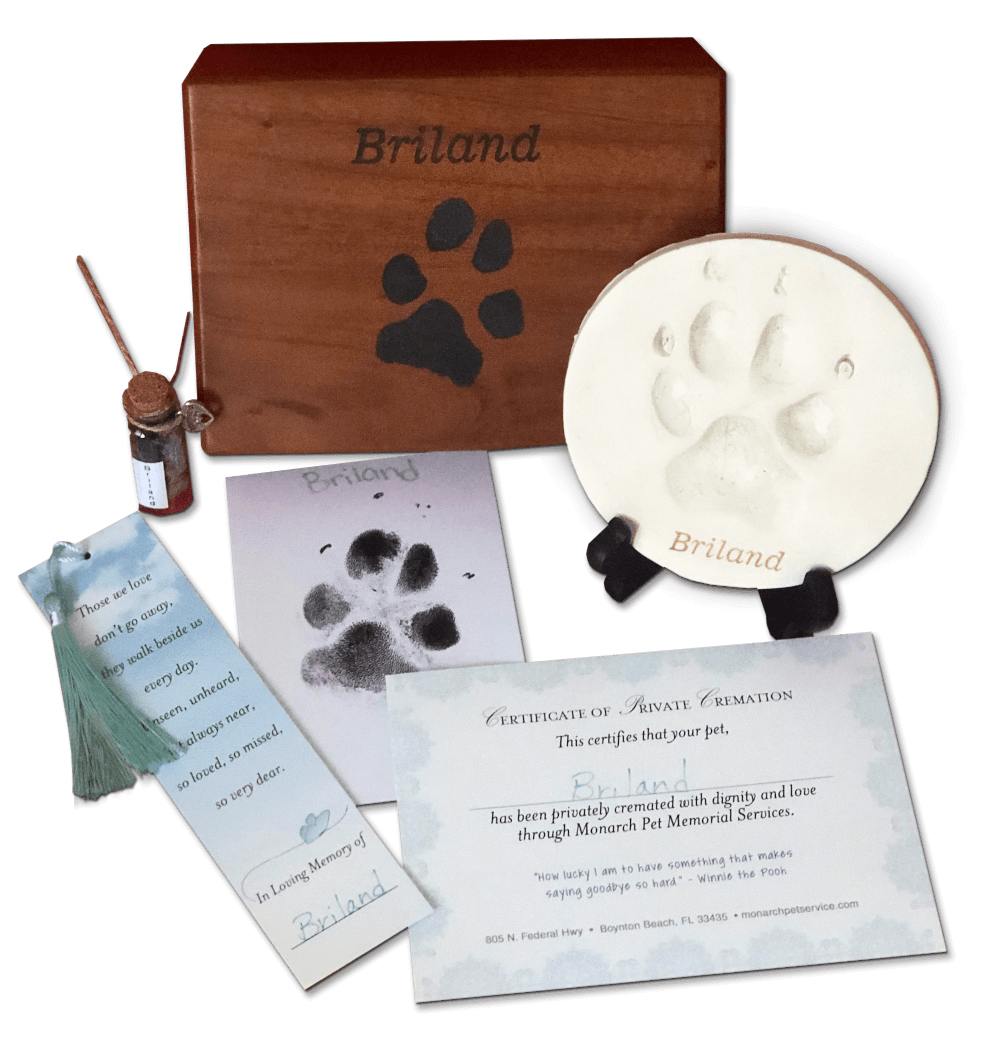 We have partnered with Monarch Pet Memorial Services to be the provider of cremation and memorialization of the pets that have passed. Monarch was started and owned by local hospice veterinarian Dr. Mary Gardner and her brother Allan. The opened Monarch in 2019 as they wanted to create a personalized and dignified aftercare experience and to help families honor the lives of those they loved. They specialize in water-based cremation (Aquamation) as it is a gentle and eco-friendly option.
If you elect to have your pet's ashes returned, you will receive a beautiful custom urn that has your pet's paw print and name engraved on the top, a clay paw impression, an ink impression (which can be scanned and used for jewelry or even a tattoo), a fur clipping and a cremation certificate. The cremation and memorialization process takes approximately two weeks. If you would prefer Monarch to spread your pet's ashes (they spread ashes out at sea off the Palm Beach coast), they can do that for you with the communal cremation option. You can still request to have a paw impression and fur clipping made with this option.
From our hearts …
We are all here to support you as you say goodbye to your loved one. Please do not hesitate to call us if you have any questions.